Update on August 1, 2022: 
The History Department invites you to consider a donation to the Richard and Valerie Herr Graduate Student Support Fund, in celebration of Professor Emeritus Richard Herr while supporting graduate students studying Spain and the Mediterranean region.
---
Dear friends,
It is with sadness that I share the news that our cherished colleague Richard Herr, Professor Emeritus of History, passed away on Sunday morning, May 29, 2022, at the age of 100.
A wide-ranging historian of modern Spain, Dick Herr was born on April 7, 1922, and grew up in Guanajuato, a mining district in central Mexico. He received his Bachelor of Arts from Harvard College in 1943. After serving in the Second World War in Washington, D.C., and Europe and studying at the Sorbonne, he was awarded the Ph.D. in History in 1954 from the University of Chicago. Dick joined the UC Berkeley community as Associate Professor of History in 1960 and served in numerous roles of leadership. Most notably, he was at the heart of building our campus's distinguished program in Spanish and Portuguese Studies, serving as chair of the Iberian Studies Group before his retirement in 1991, then returning to chair the Portuguese Studies Program and the Spanish Studies Program. He remained a warmly welcomed presence in the communities of the Department of History and the Department of Spanish and Portuguese into his late nineties.
Dick's scholarship included the monographs The Eighteenth-Century Revolution in Spain, Tocqueville and the Old Regime, Rural Change and Royal Finances in Spain at the End of the Old Regime, and Separate but Equal? Individual and Community Since the Enlightenment. His works achieved impact in both English and Spanish and extended to an important short survey of Spanish history. He edited or co-edited numerous volumes in English and Spanish and together with family collaborators prepared several jewel-like memoirs. His contributions were recognized by the Gershoy Prize from the American Historical Association, an honorary doctorate from the Universidad de Alcalá de Henares, Spain, membership in distinguished professional societies, and numerous other awards at home and abroad. At the time of his retirement from the faculty, he was awarded the Berkeley Citation.
Dick and his family were treasured for the human warmth and welcoming spirit that they extended to the members of our academic community. His personal character and sense of humor were often on view, for instance, in his appearance on ceremonial occasions in the extraordinary academic regalia of his honorary doctorate. Dick recently celebrated his centenary with well-wishes from family and friends across the globe.
A memorial service will be held at a time to be announced. Our thoughts go out to Dick's wife Valerie and his family at this time of loss.
Sincerely,
Cathryn Carson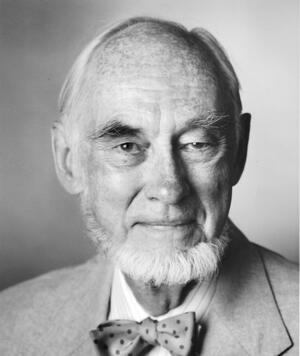 Image credit: Margaretta K. Mitchell, 2007